Client: Cleves Primary School is a large primary school in East London, part of the Boleyn Academy Trust.

Brief: Cleves Primary School has an ethos of inclusivity, where children are happy, valued, and secure in their learning. With 26 teachers and over 63 teaching assistants, admin and other support staff it is important that the staff have a dedicated space for themselves. The school contacted us to refurbish and update their staffroom. The brief was fairly straightforward – the school wanted us to design and create a café style staffroom to create a more homely environment for the staff to relax and recharge.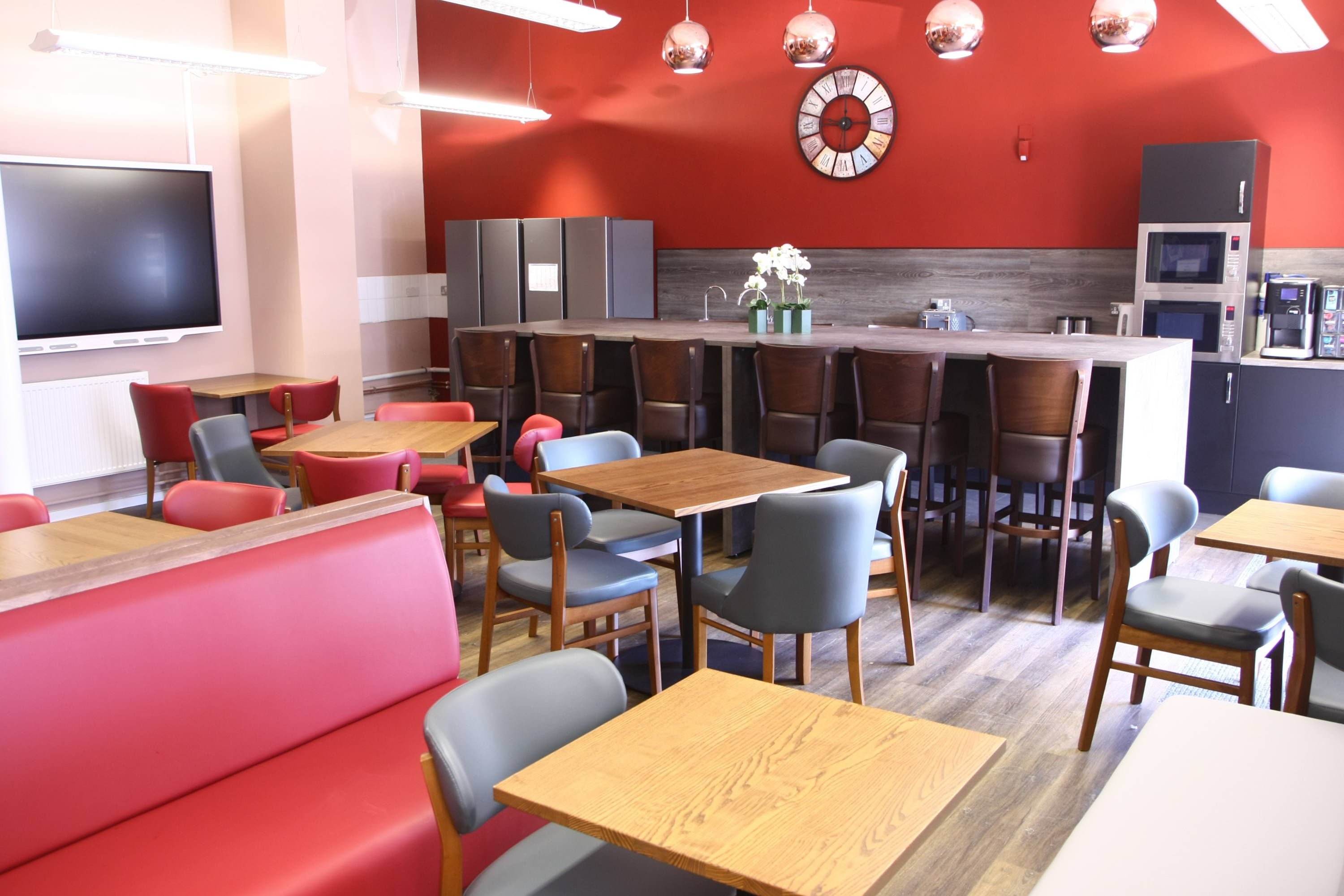 Challenges: Staff rooms are a huge boost to teacher morale; they can help staff feel valued as part of a team and encourage a sense of belonging. If members of staff feel they belong and are supported this will improve learning outcomes and results for everyone in the school. Our aim was to turn the existing fragmented staff room into a destination space, somewhere that reflected the school's ethos of inclusivity and combining it with a café style design.
One of the most important aspects of a staff room will be the provision of a dedicated, accessible space where staff can prepare their lunches and pick up a coffee. The existing kitchen was situated into a corner off the staffroom which made it a cramped and awkward space, especially when several staff wanted to use the staffroom at the same time.
Solution: The kitchen was moved out into the main area of the space, making it an integral part of the staffroom, and incorporated a long run of functional yet stylish kitchen units including two integrated microwaves, an integrated dishwasher, a neat pull out bin and an up-to-the-minute boiling water tap. This is flanked by a large poseur table in a very modern concrete finish with cosy faux leather bar height chairs. This created a modern and spacious area dedicated to food and drink preparation that could accommodate many people using the space at the same time. The long poseur table allows for up to 12 to use the space comfortably.
As well as a space to eat and relax, we are acutely aware that the staff room is a haven for staff, where they can go to rest, socialize, talk and work so it was important that the staffroom had dedicated spaces for all of these activities.
We used individual tables with solid stained wood tops along with the fixed banquette seating and the burgundy and grey faux leather wooden chairs, providing flexibility for staff to us the space as they wish. Chairs and tables could be used for individual work/rest whilst the banquette seating is ideal for small teamwork and socializing.
Impact: The school appreciated that we understood and embraced what they wanted to achieve from their staffroom refurb. They loved our initial design and thought that we just 'got' them and with only a few tweaks it was ready to go.
The result is a modern, café style destination staffroom, somewhere that staff actually want to be, whether they're eating their lunch, catching up with colleagues or preparing for the next challenge. The new staffroom has proved very popular with everyone and is certainly one of the most striking staffrooms we've ever had the privilege to design and create.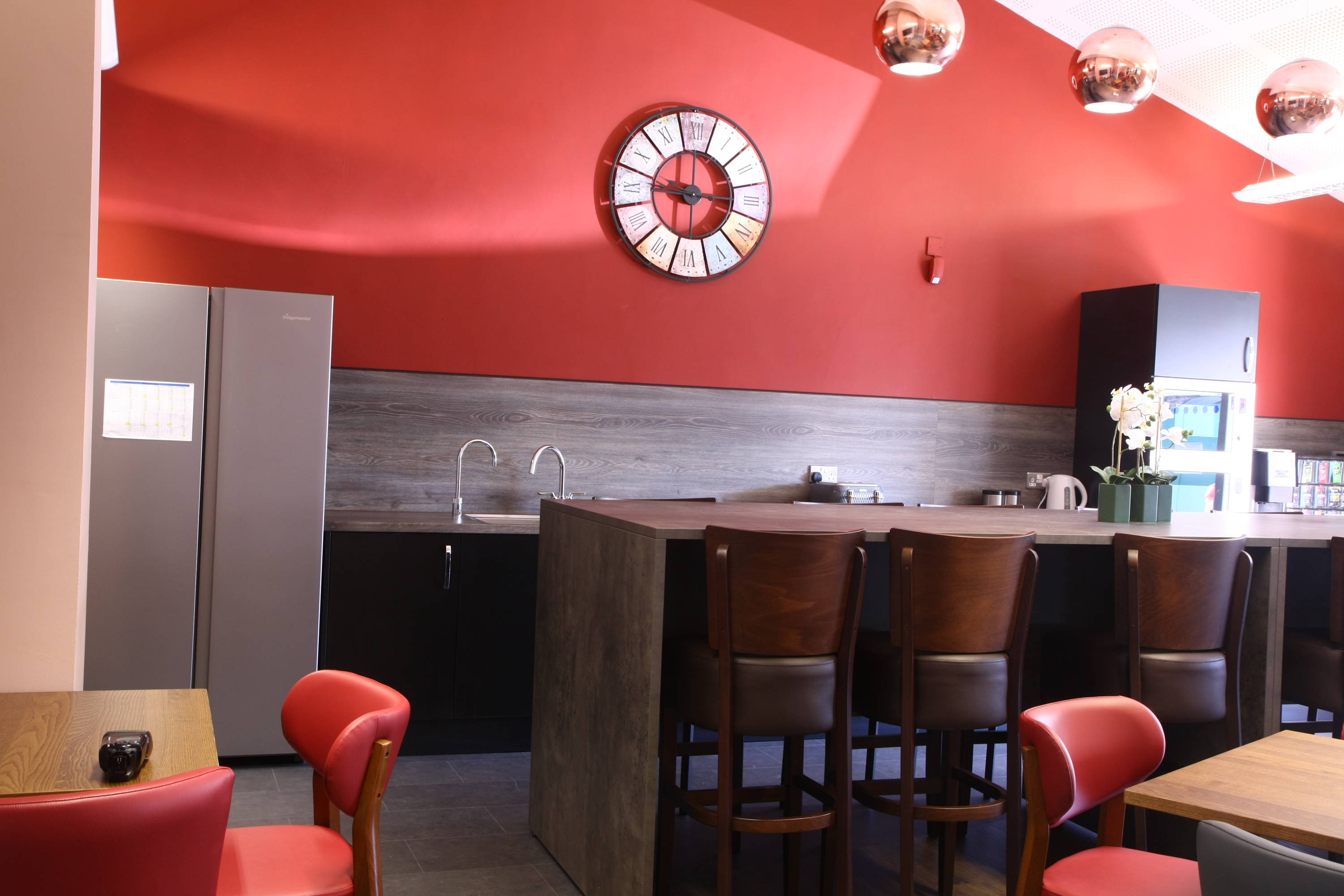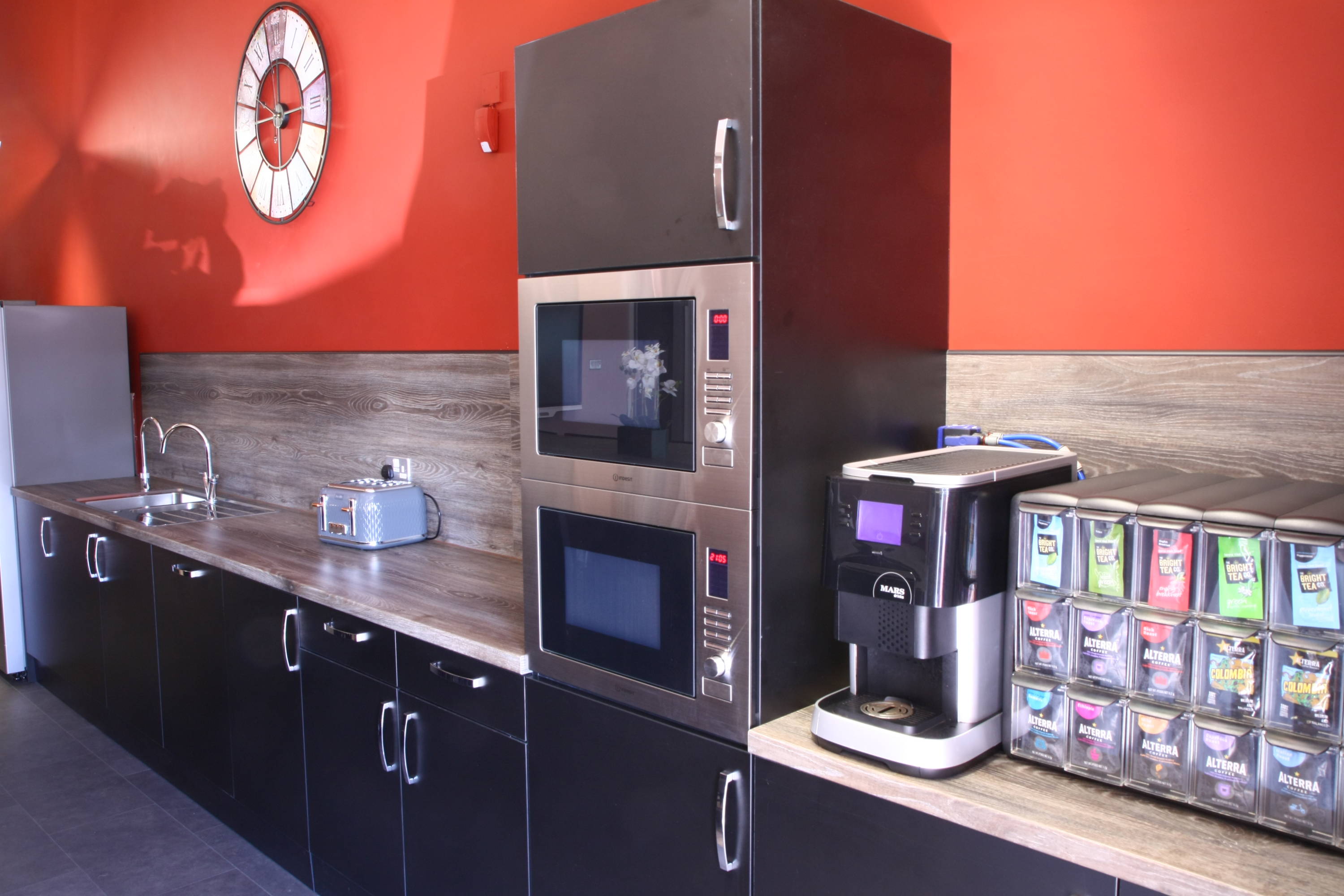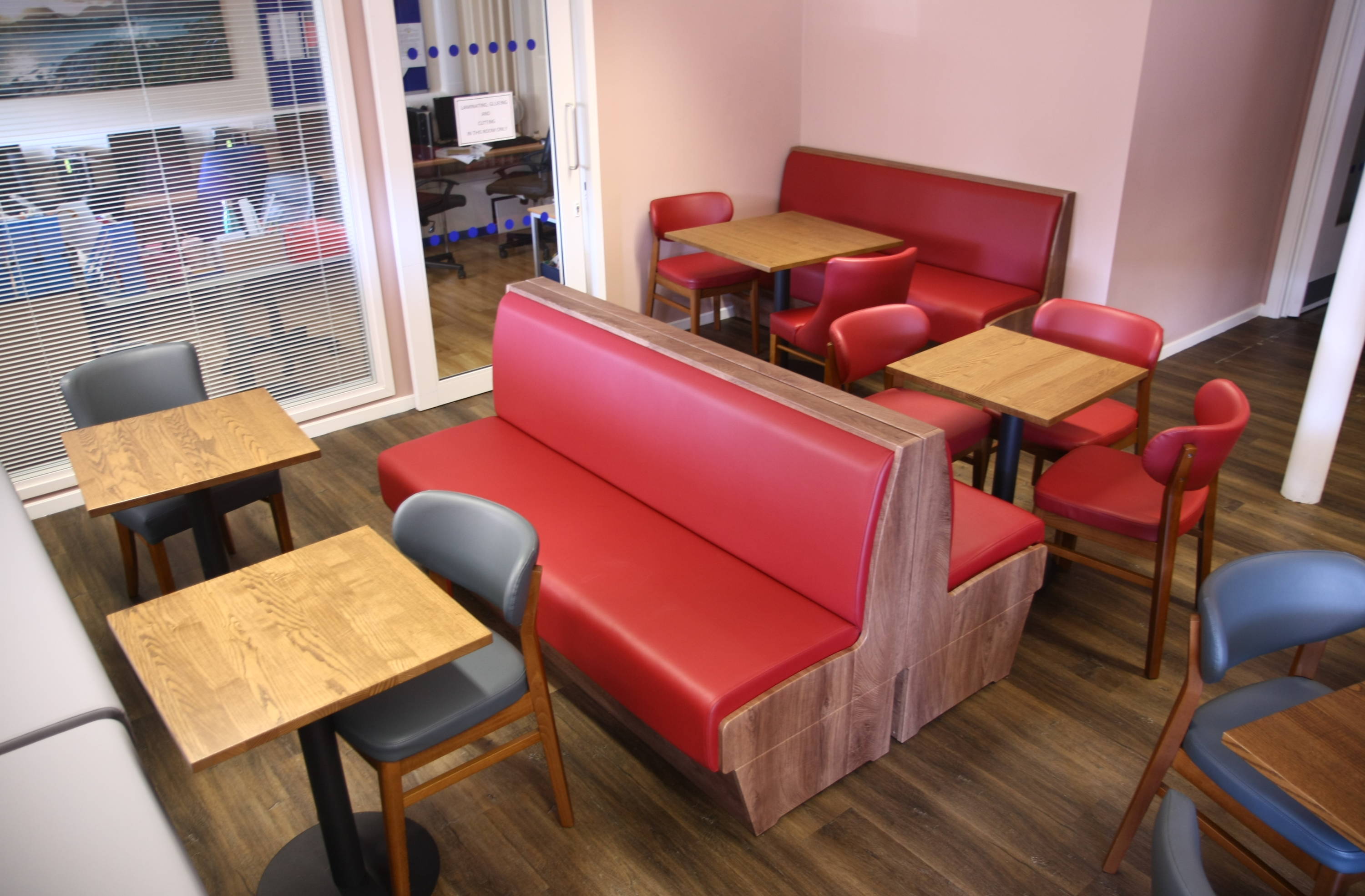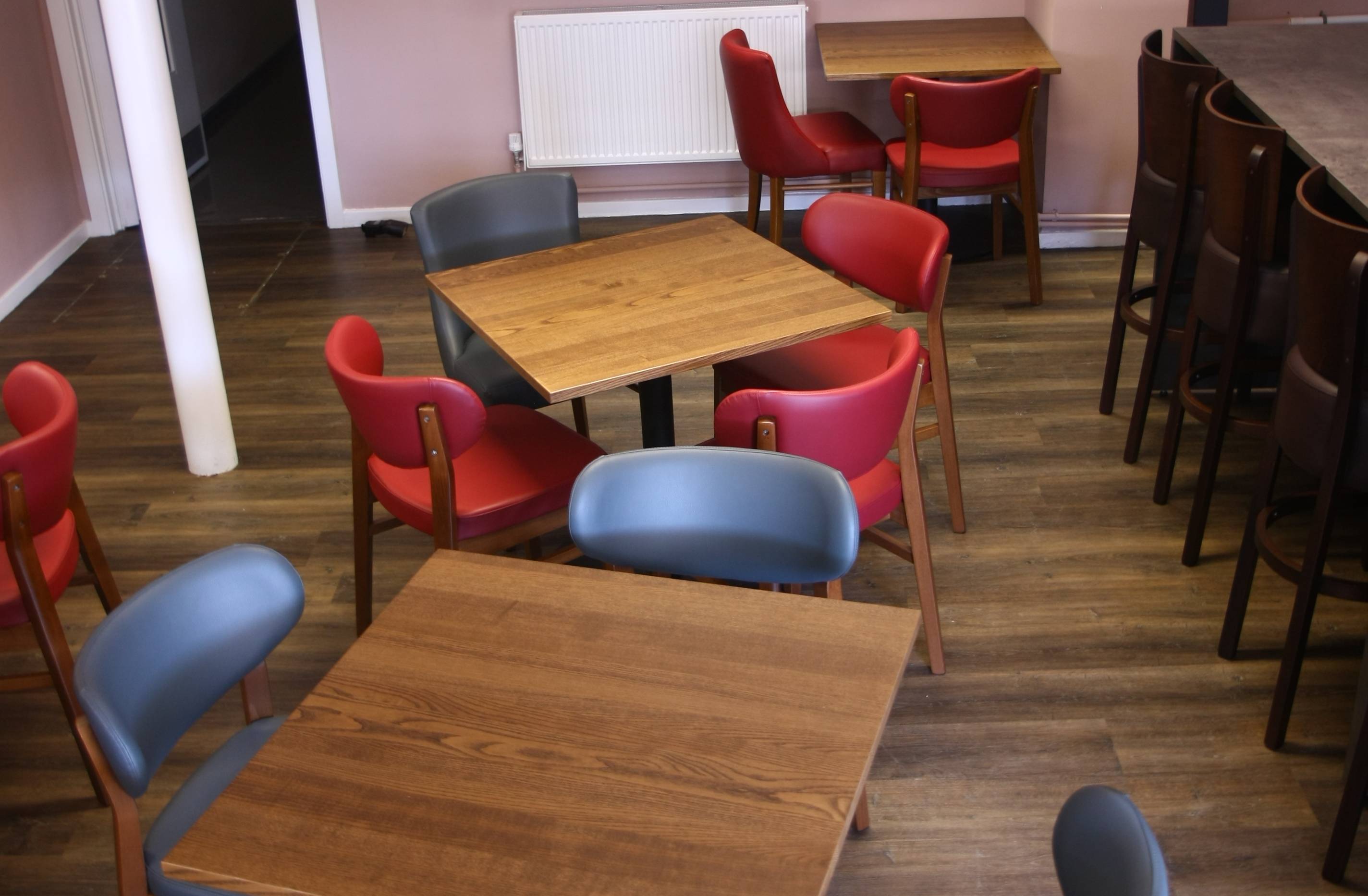 Whether you're looking to refurbish your existing staff room or fitting-out a new one, our consultancy, space planning, design and installation service will guide you through every step of the project. Email sales@foursquarefurniture.uk for a free initial consultation.