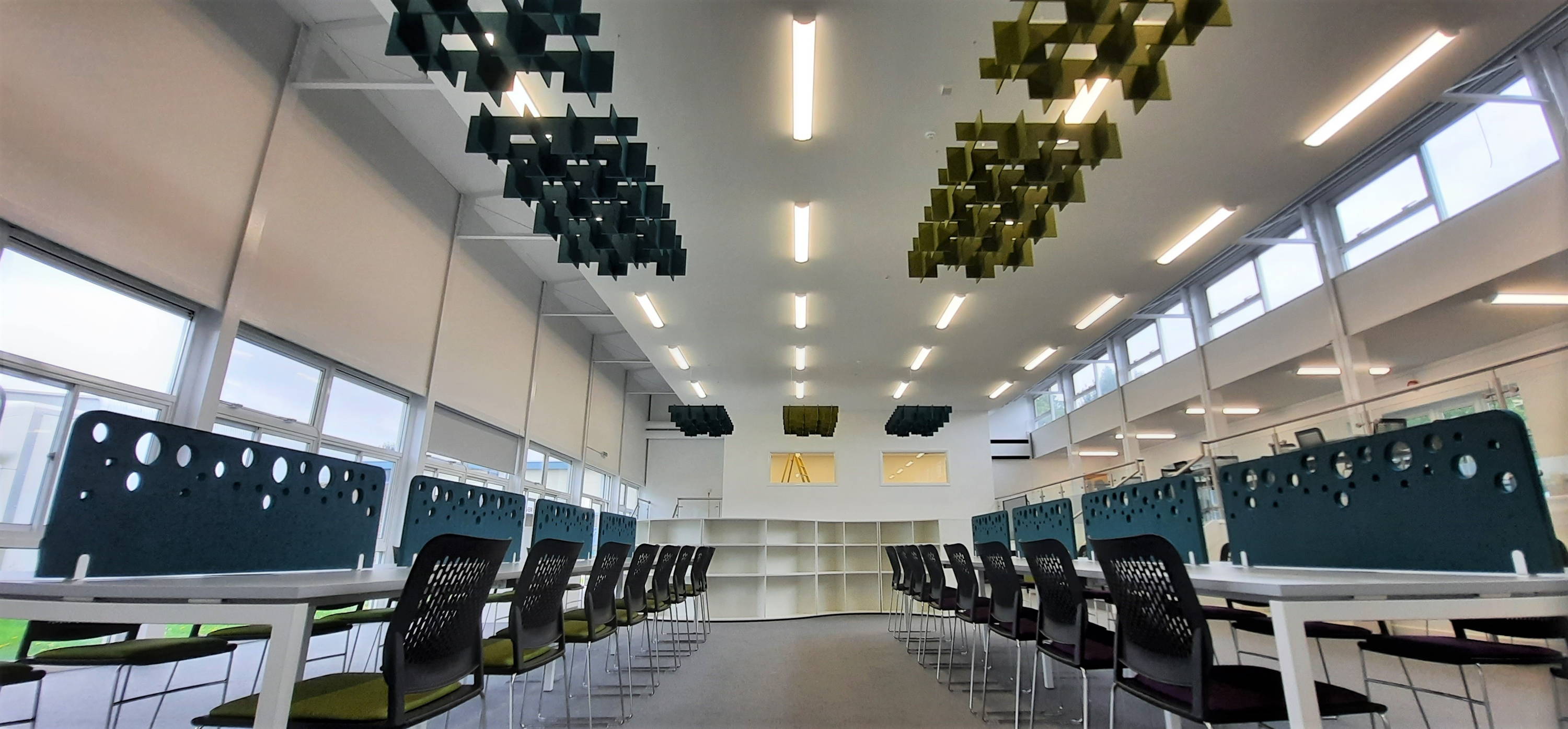 We have been working with all types of educational providers for many years helping to deliver learning environments where everyone is motivated to achieve their best. From classrooms and libraries, to dining halls and sixth form areas, our innovative spaces allow pupils and teachers to thrive.
Schools come in all shapes and sizes, from schools with traditional classroom layouts to others with more complex learning areas, including large open-plan spaces designed to accommodate teaching several pupil groups simultaneously. And let's not forget that many older schools built in the 19th and 20th centuries were not built with acoustics in mind and even some of today's modern schools have not had proper attention to the acoustics, and more specifically the reverberation time (echo) within the learning spaces.  
However, since 2003 Part E of the Building Regulations (as amended) has been applied to schools in the form of the first section of Building Bulletin 93, setting out the statutory requirements for acoustics in schools and states that:
"Each room or other space in a school building shall be designed and constructed in such a way that it has the acoustic conditions and the insulation against disturbance by noise appropriate to its intended use."
We understand that managing noise across different environments is a huge challenge for schools and we also know that excessive noise in learning environments effects both young people's learning and teacher stress levels.
The World Health Organisation (WHO) recommends that, to be able to hear and understand spoken messages in classrooms, the background noise should not exceed 35dB during teaching sessions (1). The reality is very different from this, with many studies finding that "in many classrooms, background noise levels exceed current guidelines and are likely to compromise pupils' ability to hear the teachers and their peers" (2).
Hearing is critical to children's speech & language development and, at any one time, up to 40% of children in primary schools in the UK have some form of hearing impediment – due either to permanent damage or because of colds and ear infections. Couple this with any other learning needs, or if English is an additional language, and excessive classroom noise can have a detrimental effect on learning.
Acoustics are even more important when teaching children with special needs (SEN). They may need to be taught in spaces with lower noise levels and shorter reverberation times, often in smaller groups to reduce ambient noise and to minimise the distance between teacher and pupil.
It's not just pupils who are affected by poor acoustic conditions in the classroom. Teachers are at risk of vocal strain if they find it difficult to make themselves heard above high noise levels; as well as increase in stress and fatigue impacting their ability to deliver learning effectively.
How to improve classroom acoustics
The easiest way to reduce the reverberation time of a room is to increase the sound absorption. Sound absorption can be improved by the addition of more 'soft' materials such acoustic wall panels, carpet, or acoustic ceiling baffles and rafts.
It's important to understand the acoustic needs of each space to enable you to choose the most appropriate acoustic solutions. With this in mind, we can offer acoustic site surveys by one of our consultants and take acoustic readings to calculate the reverberation time, allowing us to advise you on how to create acoustic comfort, meet the Building Regulations, as well as advise you on the impact our acoustic panels will have in terms of absorbing sound. For new builds and more complex spaces we can also offer the services of a third-party qualified acoustician to ensure the acoustics are considered at the earlier stages of a build or renovation project, which will limit the expense and inconvenience of retrofitting acoustic solutions after the build.
We have created several hard-wearing, affordable acoustic solutions for schools to help manage noise, reduce reverberations AND add a little creativity to school spaces.
Benefits of our acoustic solutions. They:
improve teaching and learning by absorbing excess classroom noise
have been tested and have a minimum NRC of 0.45, meaning 45% of sound is absorbed (based on one layer of 12mm PET felt)
have low VOCs and NO formaldehyde binders
have Fire Rating: EN 13501-1:2007 +A1:2009-B, do ASTM E84-16-Class A
are pinnable, staple and velcro friendly- ideal for displays
are durable, resistant to staining and easily cleaned
are made from at least 60% recycled PET felt
are totally safe for schools
are available in a range of 26 nature-inspired colours to connect your school to nature and match school branding and soft-furnishings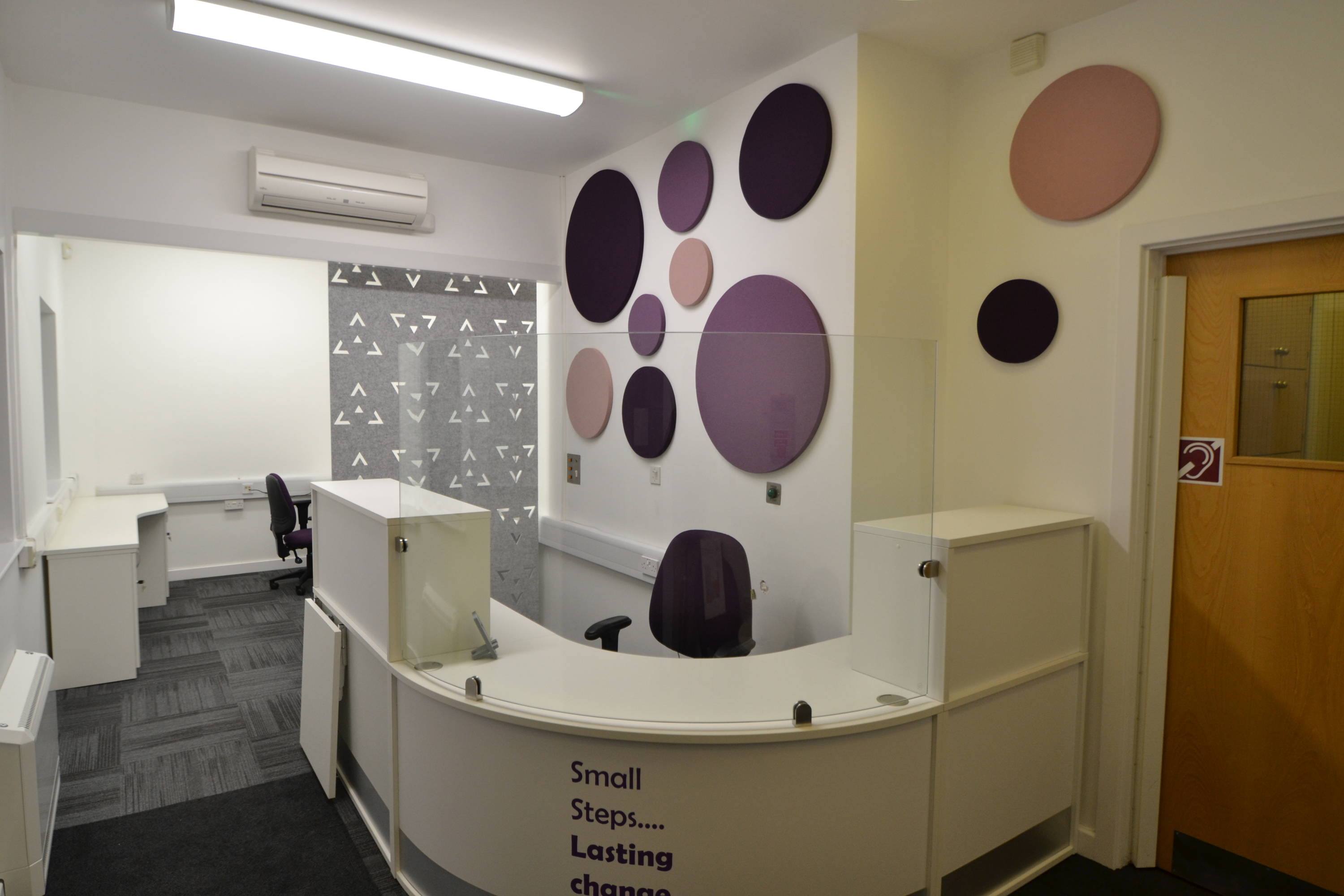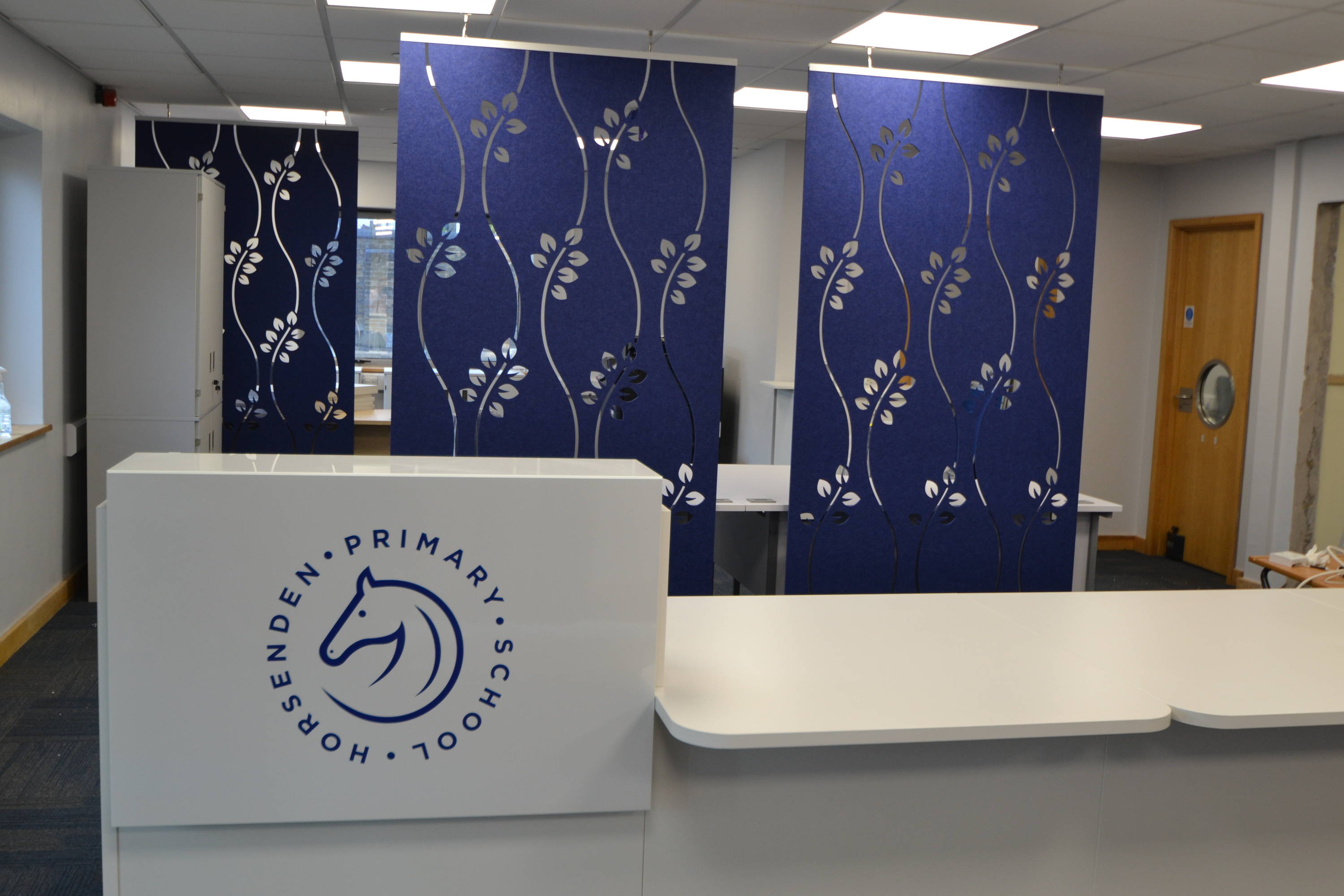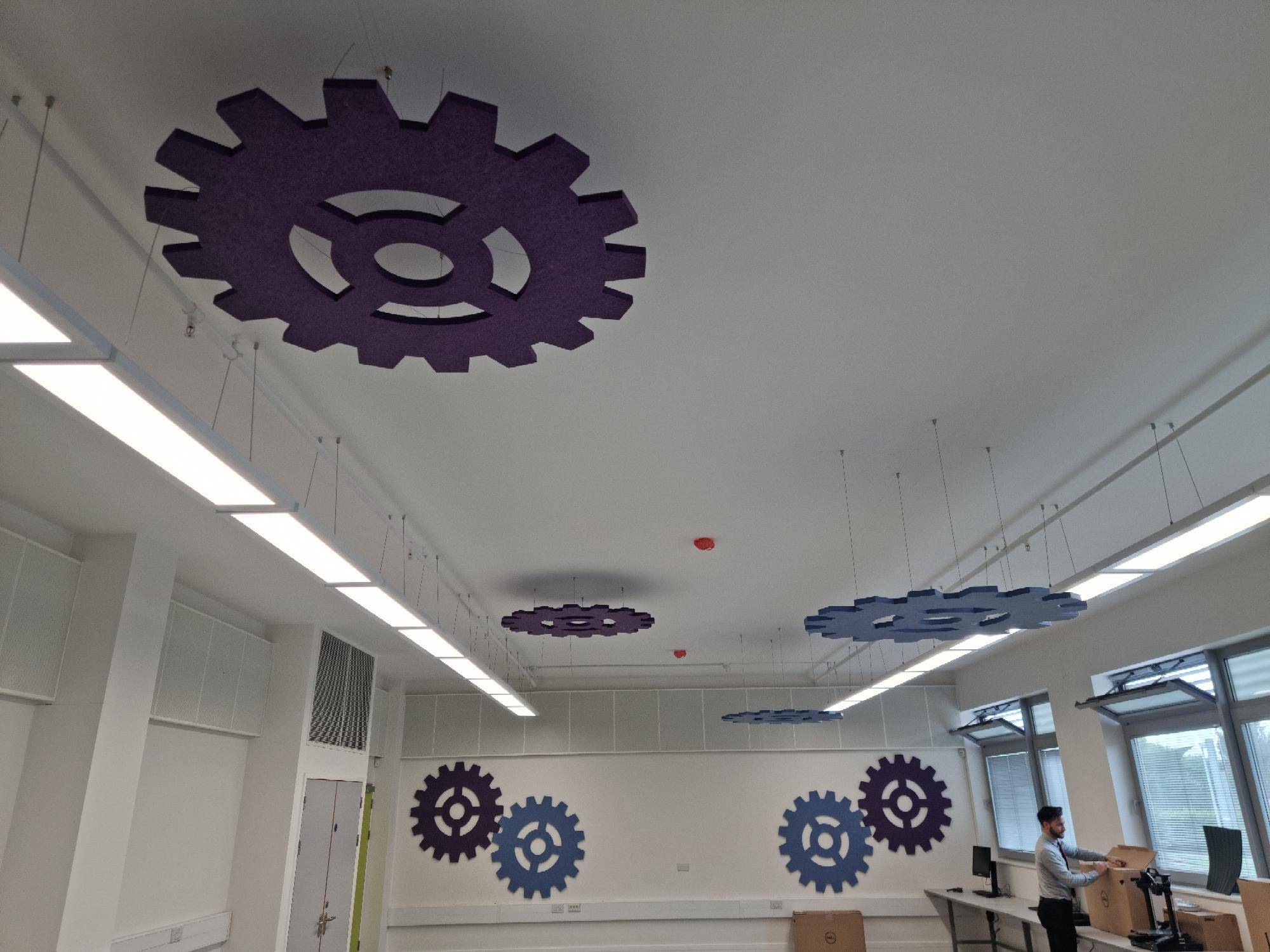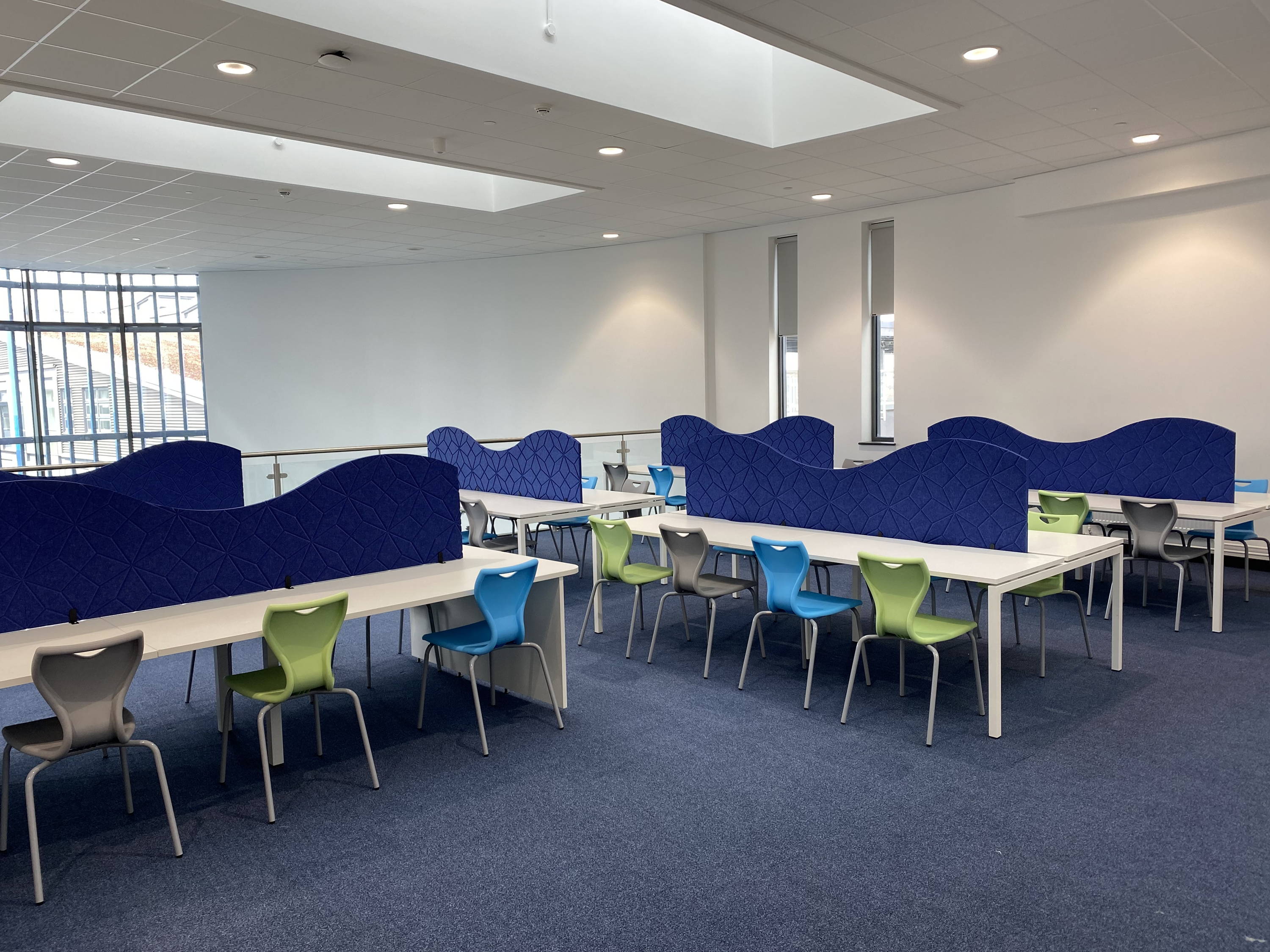 If excessive noise in your schools is affecting pupil learning and teacher stress levels, please get in touch for a no obligation consultation, we'd love to help!
T: 01923 774242 E: sales@foursquarefurniture.uk